The Birds and the Bees: How We Love Them, Why We Need Them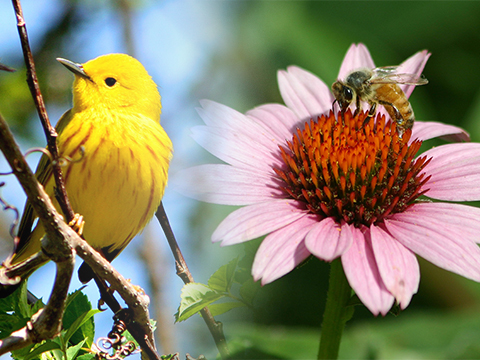 Come join us for a colorful and informative multimedia presentation illustrating the beauty and wonder of our winged creatures, their interdependence with other living things, and how we can help to protect them from population decline. From nesting birds to pollinating bees in flowers, Carole Smith Berney will provide information and images showing where they live, how they raise their young, and why they are endangered. A musical section with projected images will follow the narrative, with time for questions, answers, and discussion.
We'll follow this program with two guided walks, which will focus on local birds and bees. To join either walk, please register at the Library.
Bird Walk Along the Charles, Saturday 5/13 at 10:30 a.m. [rain date: Sat. 5/20]
Bee Safari at Mass Audubon Habitat in Belmont, Saturday 6/10 at 10:30 a.m. [rain date: Sun. 6/11]
Carole Smith Berney has received numerous grants and awards related to her wildlife photography, local advocacy efforts with the Friends of the Watertown Riverfront, her field guide of wildflowers along the River, and her nature-related multimedia shows and exhibits. She is a member of Watertown Friends of Bees, which offers programs related to protecting pollinators and educates the public about the importance of eliminating pesticides and advocating for legislation that can protect the natural world.
This program is supported in part by a grant from the Watertown Cultural Council, a local agency which is supported by the Massachusetts Cultural Council, a state agency.