Rethink Plastic July 29 Public Meeting Notes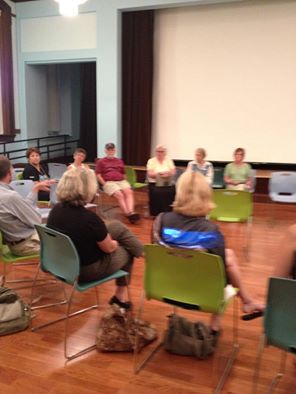 NOTES FROM JULY 29, 2014 PUBLIC MEETING
You can also read reviews of the meeting and make comments at the Tab (http://dedham.wickedlocal.com/article/20140731/NEWS/140739396) and WatertownNews (http://www.watertownmanews.com/2014/07/citizens-group-looking-at-banning-plastic-shopping-bags-in-watertown/)
You can replace some plastic bags and packaging but not all.
Plastic bags in stores now are mostly made from natural gas.
Some biodegradable bags are marine biodegradable and biodegradable in land fills.
The ban is going well in Brookline.
There are no exemptions in Brookline. They offered a short-term waiver. Stores over 2,500 square feet had to follow the law.
The ease of getting bags for dogs from the store should factor into the discussion.
Should we connect this with Watertown Strong?
Bags can be purchased for $1 at Trader Joes.
Are some plastic bags worse/better than others?
Thicker bags are better because they may be used more times.
We really should limit Styrofoam too. The beach at the river is made up of Styrofoam pieces.
In Brookline they banned polystyrene which is locally packaged. It is a harder enforcement issue. It is non-recyclable.
Amherst banned foam only.
Brookline banned all polystyrene.
The air pollution from plastic creation has been linked to many health issues.
Could newspaper bags be shared with dog owners?
Most dog parks offer biodegradable bags.
Paper bags are better than plastic.
The first thing to do is to ask stores to offer paper and plastic.
Every plastic bag that ever existed still exists.
Supermarkets and convenience stores put out 90% of the bags.
In Brookline there is the option for stores to use biodegradable bags.
If the bans in Cambridge and Newton pass we will be surrounded by towns with bans.
Newton Chamber of Commerce came out in support.
A list was started for people to sign up to approach Russo's.
Towns with bans are particularly clean.
It would be better to have a state-wide ban, but it takes some towns/cities making the moves together to influence the state.
There is a state-wide bill that is still alive and there is time to work on that. Requires all plastic bags to be marine biodegradable.
There is an industry working on biodegradable bags.
Animal waste is a concern for many people.
One person cleans her yard with a paper bag. Newspaper works.
The high school is interested in changing but they are worried about the cost.
Tax payers are subsidizing the stores by paying people to pick up the trash.
Roots and Shoots is a young group concerned about environmental issues.
Discount for bringing a bag doesn't help. Charging for a bag might help.
A bag tax might not be effective unless it is high.
Biodegradable bags may not be biodegradable underground.
Now we have a choice.
We will need to buy plastic bags for other uses that we use bags for now.
Banning things takes away our freedom of choice.
We can recycle plastic instead of banning them.
Consider seeing Bag It movie.
Trying not to make it a personal problem.
Would others be willing to work with Russo's?
Question about working with high school students.
Not all stores give a choice of paper or plastic.
Many dog owners use store bags. What is the solution?
The problem is that people are consuming things on the go. We have a different culture than we used to.
The bigger issue is things that are carried around and then dropped.
There are many models to look at. It's a good time to move forward.
A report produced by a citizens group would be helpful.
As valuable as education would be in some cases we can't wait for everyone agreeing to the "right" thing to do. Here the government can help when in a market change by employing various tools: penalties, incentives, laws, etc.